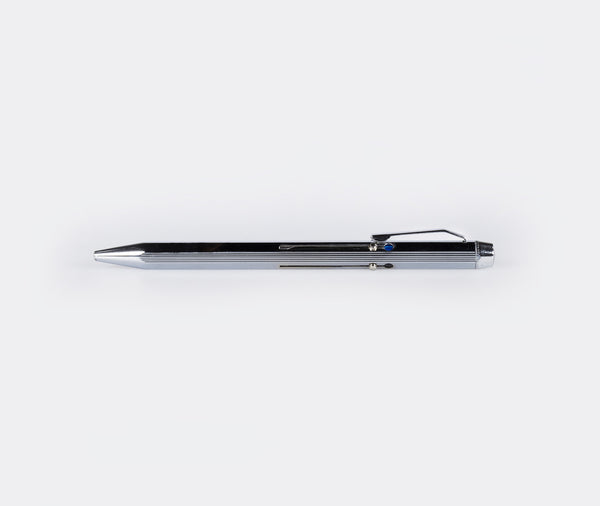 4-colour Ball-point Pen - Silver
$18
HighTide
's 4-colour ballpoint pen is a grown-up version of the classic. Designed in Japan and crafted in Italy from steel, this elegant pen features the brand's touch of retro-nostalgia. Four colours make it perfect for a range of tasks, such as colour-coding your schedule, and editing notes.
HighTide was founded in Fukuoaka - a sea-side city in Japan with a laid-back vibe. The brand offers a playful approach with their range of stationery, and we especially like this chic version of a 4-colour ballpoint pen.
MATERIALS
Steel 4-colour ballpoint pen, finished in silver
FEATURES
Black, blue, red and green ink
ORIGIN
Designed in Japan, made in Italy
DIMENSIONS
13 x 1 cm, 0.7 mm tip
ORIGIN
Japan
DELIVERY
All orders are dispatched within 24 hours of purchase. Worldwide shipping is available.
RETURNS
If for any reason you're not happy with your order, feel free to return your item to us for a full refund within 28 day's of purchase. See our
Delivery & Returns
page for full details.
Our prices include tax and duties to Europe if the total order value is below 150 Euros (you won't be charged any additional taxes or duties when you receieve your shipment). Please note: orders above 150 Euros may incur additional taxes and duties at import. Please see our
Delivery & Returns
page for full details.




Worldwide shipping available



Need help - contact us