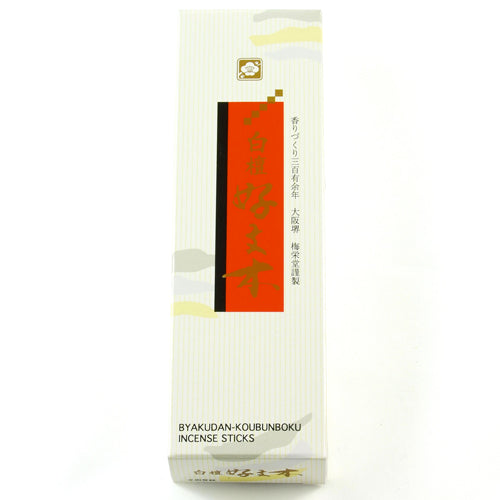 Byakudan Kobunboku Sandalwood Incense Sticks
$17
With a similar recipe to the regular Kobunboku, but with added premium sandalwood from the Mysore region in India. Byakudan translates as 'white sandalwood'.

Baieido has dedicated itself to making incense over the last 300 years, the method and recipes having been handed down from generation to generation in an unbroken secret oral tradition.
MATERIALS
Natural incense
FEATURES
110 sticks of incense / 30 mins per stick
DIMENSIONS
15 x 5 x 2.5 cm, 14 cm sticks
ORIGIN
Japan
DELIVERY
All orders are dispatched within 24 hours of purchase. Worldwide shipping is available.
RETURNS
If for any reason you're not happy with your order, feel free to return your item to us for a full refund within 28 day's of purchase. See our
Delivery & Returns
page for full details.
Our prices include tax and duties to Europe if the total order value is below 150 Euros (you won't be charged any additional taxes or duties when you receieve your shipment). Please note: orders above 150 Euros may incur additional taxes and duties at import. Please see our
Delivery & Returns
page for full details.




Worldwide shipping available



Need help - contact us