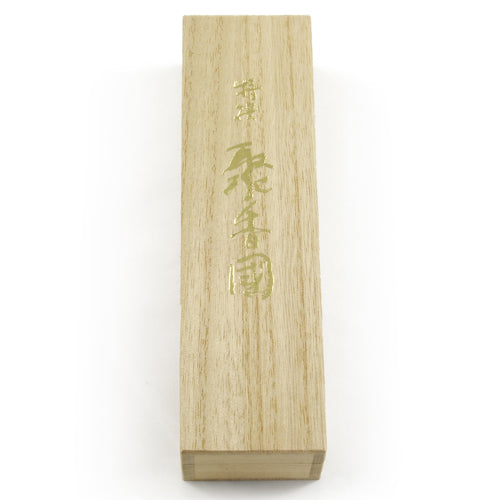 Excellent Shukoh Koku Agarwood Incense Sticks
$63
Shu koh koku means "Gathering of Fragrant Countries". Excellent Shu koh koku blends high quality sandalwood with premium grade Vietnamese agarwood, alongside selected Chinese herbs and spices, producing a complex and mysterious fragrance where various notes come in at different times.

Sometimes the aroma leans towards the sandalwood component, at other times agarwood is the dominant note. This remarkable incense comes packaged in a beautifully crafted wooden box.
MATERIALS
Natural incense
ORIGIN
Made in Japan
FEATURES
100 sticks of incense / 30 mins per stick
DIMENSIONS
16 x 4.5 x 3.5 cm, 14 cm sticks
DELIVERY
All orders are dispatched within 24 hours of purchase. Worldwide shipping is available.
RETURNS
If for any reason you're not happy with your order, feel free to return your item to us for a full refund within 28 day's of purchase. See our
Delivery & Returns
page for full details.
Our prices include tax and duties to Europe if the total order value is below 150 Euros (you won't be charged any additional taxes or duties when you receieve your shipment). Please note: orders above 150 Euros may incur additional taxes and duties at import. Please see our
Delivery & Returns
page for full details.




Worldwide shipping available



Need help - contact us