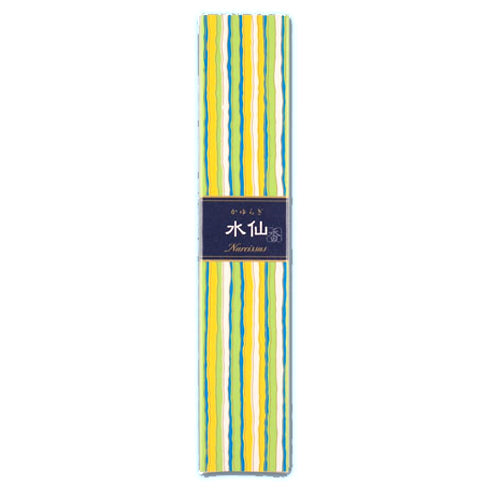 Sold Out
Kayuragi Narcissus Incense Sticks
$18
This product is unavailable
Welcome to the world of Kayuragi, where fragrance "Ka" meets with slowly wafting scented smoke "Yuragi". The pack design is inspired by Kimono (Japanese traditional wear) fabric, with its stylish colourful design, and the incense comes inside a neat little wooden box- making it the perfect gift for someone special!
When the incense is lit, it's smoke and aroma wafts throughout the space and brings a feeling of relief and relaxation. It is not only from the pleasant fragrance, but also from the sight of the wafting smoke which will make you feel at ease. The beautiful Kayuragi incense box contains 40 sticks of incense and a mini ceramic holder.
This particular scent features the green floral note of clear and velvety Narcissus.
This incense has no bamboo core, which gives it a clean burning, pure scent. For meditation, relaxation, stress reduction, massaging, reading, yoga, bathing.
MATERIALS
Natural incense
ORIGIN
Made in Japan
FEATURES
40 sticks of incense / 25 mins per stick
DIMENSIONS
16 x 3 x 2.5 cm, 14 cm sticks
DELIVERY
All orders are dispatched within 24 hours of purchase. Worldwide shipping is available.
RETURNS
If for any reason you're not happy with your order, feel free to return your item to us for a full refund within 28 day's of purchase. See our
Delivery & Returns
page for full details.
Our prices include tax and duties to Europe if the total order value is below 150 Euros (you won't be charged any additional taxes or duties when you receieve your shipment). Please note: orders above 150 Euros may incur additional taxes and duties at import. Please see our
Delivery & Returns
page for full details.




Worldwide shipping available



Need help - contact us