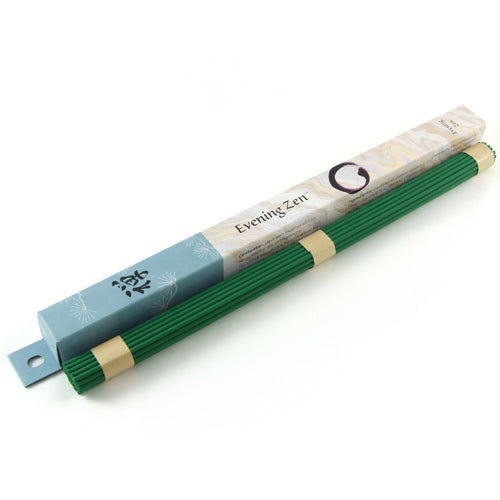 Sold Out
Evening Zen Meditation Incense Sticks
$20
This product is unavailable
Evening Zen is a masterful composition of sandalwood, patchouli, clove and benzoin, which creates a fragrance that is sublime and full of subtle nuances that reveal themselves over different sessions.
The inscription on the box reads... "A circle is an open doorway to eternity, where perfect wholeness begins to be a reality. Its continuous path reminds us of our ceaseless attentiveness to well-being. As all becomes attuned, the song of the universe is surprisingly familiar- here life is complete. The circle's oneness is always enough to embrace all, just as a shower of white light contains the whole spectrum. Finally, we learn to live in the eternal now."
The sticks are thicker than usual and therefor require an incense holder with a slightly larger hole. Please see our range for such an item.

With a 2 hour burn time, this incense is great for when you need a lasting fragrance that is elegant, subtle and refined. These same qualities also make the Shoyeido Zen series the perfect companions during meditation.
MATERIALS
Natural incense
ORIGIN
Made in Japan
FEATURES
30 sticks of incense / 120 mins per stick
DIMENSIONS
34 x 2.5 x 2.5 cm, 34 cm sticks
DELIVERY
All orders are dispatched within 24 hours of purchase. Worldwide shipping is available.
RETURNS
If for any reason you're not happy with your order, feel free to return your item to us for a full refund within 28 day's of purchase. See our
Delivery & Returns
page for full details.
Our prices include tax and duties to Europe if the total order value is below 150 Euros (you won't be charged any additional taxes or duties when you receieve your shipment). Please note: orders above 150 Euros may incur additional taxes and duties at import. Please see our
Delivery & Returns
page for full details.




Worldwide shipping available



Need help - contact us